Title color update!
you can now change the color of your topic title!
To activate it :
general > configuration > "Allow topics titles color" > yes

Then when creating a topic, you just need to scroll and choose the color you wish :
New update : "Abuse report"
In order to prevent Terms of Services infringment, any members can now report an abuse by clicking the link "report an abuse" of each page of the forums, as you can see below :
If you receive an abuse for your forum, to consult it :
Admin panel > misc > reported abuses
(If you don't see the section it's normal! That means you don't have any abuses
)
We inform you that we have done an update for Forumotion which introduced new features for your forums:
1. Nickname automatic addition of the person who edited a message the possibility of adding a reason for this edition.
New update : "Message edition"
You want to be a Forumotion partner ?
If you wish to become a Forumotion partner, and make a link exchange with us, please send me an email at : typlo@forumotion.com
Your link or banner will appear on our portal, in the "partners" section, as you can see on this link :
http://help.forumotion.com (Page rank 6)
I will analyze all your proposals, thank you for your interest in our services

Old Topics Cleaned Out
All Old Topics And Posts Been moved To Basket,Located At End Of forum
New tags : [youtube] et [dailymotion]
We announce you the installation of the tags [youtube] et [dailymotion] !
You can now post videos from those two websites directly on your forums.
For Youtube :
Paste the "URL" or "Embed" code provided on the site, directly between the tag [youtube][/youtube]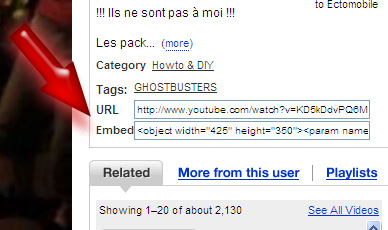 Example :
Code:
or
For Dailymotion :
Paste the code contained in the "Embeddable player" between the tag [dailymotion][/dailymotion]
Code:
Little precision: those tags shouldn't be used with the HTML editor (WYSIWYG mode).
Who`s Online Google Map
Bottom Of Forum >Who`s Online Google Map > Users Online locations
Colorized Usernames Enabled
it located on users option